EXPERIENCE LAST
GENERATION VR
Exclusive team games in VR and the newest VR technology you will not find other places. Maximum immersion in the VR world. Fun events for up to 42 people.
BOOK
Norway's coolest VR experiences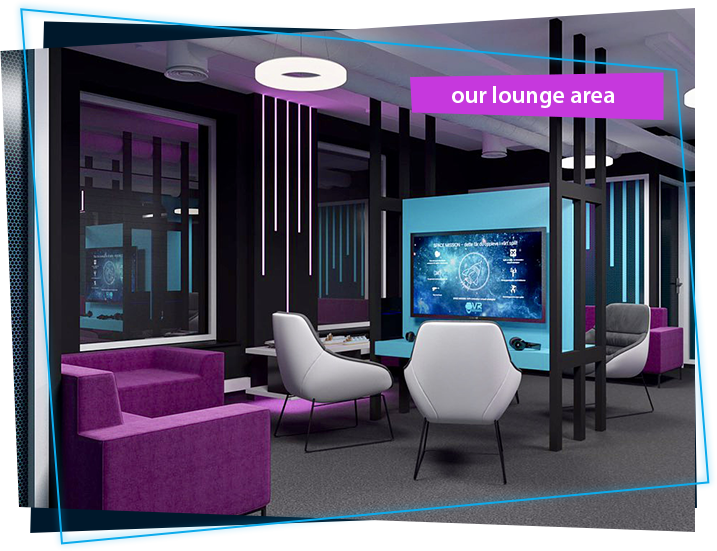 Fun VR team games for
small and big groups
Offers for 2 to 42 people
Lounge area with PlayStation and two meeting rooms
Selection of exclusive VR games
Team building, birthday and parties
Located in central Oslo
Experiences you get in all our VR games

Become an avatar with
supernatural abilities
Explore exhilarating VR world
Shoot with
a laser
Play in a team with
your friends

Move objects with telekinesis
Use your body to
control the game
OUR GAMES
Space Mission
Huxley World
Raw Shooter
Space Mission
44 min
2-6
From 9 yrs
Team building
Party
Family fun
Exclusive and fun team game based on the latest model of VR glasses Oculus and motion sensors. Work in a team to complete mission at the Eden space station. Immerse yourself in the avatar body, fly through space, use telekinesis and laser! Sitting experience with good tracking of the upper body - no controllers or gloves.
Huxley World
44 min
2-4
From 9 yrs
Team building
Party
Family fun
Explore the world in 2049 and help the robot Huxley! In this game you go freely around with PC backpack and experience very realistic VR surroundings. Along with your team, you dive deep into the world taken over by robots and solve exciting mission together. The game is based on VR glasses HTC Vive Pro, PC backpack and controllers. Two identical games with 4 people in each are available.
Raw Shooter
44 min
2-4
From 9 yrs
Team building
Party
Family fun
VR GAMES zone offers fun activities for team building, parties, date and family day
Unforgettable experience


We use the latest VR technology and exclusive VR games.
Food and drinks


We offer free coffee and sweets, and have a catering agreement. You can also bring along own food and drinks / alcohol.
VR zone in central Oslo


We offer 320 sq.m. of VR exeperiences, large lounge area with PlayStation and two meeting rooms.
Team games


You play in a team and must work together to solve problems in virtual reality. Nice way to buid a team!
Great program for group


We can accomodate 2 to 42 people, and have good packages for parties and companies.
BOOK
Choose one of our games below - click on "Space Mission" (up to 6 players), "Huxley Room 1" (up to 4 players) or "Huxley Room 2" (up to 4 players) in the overview below. Click then on a free spot to book your game. If you are a large group, book several games at the same time.

Prices incl. VAT
| | |
| --- | --- |
| Event for 7-42 | From 350 kr per pers |
| Group of 5-6 | From 350 kr per pers |
| Group of 4 | 350 kr per pers |
| Group of 3 | 385 kr per pers |
| Group of 2 | 445 kr per pers |
Rules:
Please, be on time. You can get reduced play time if you are late.
Possible to change the number of players on place, as long as you keep all your ordered games. We will adjust the price on place.
Cancellations at least 7 days in advance. If you cancel the game less than 7 days in advance, you have to pay the full price for the game.
Accessible for wheel chairs.
Up to 14 people can play at the same time (75 min), 28 people - in two rounds (2h), 42 people - in three rounds (2,5h).
We recommend to use lenses and take along a T-shirt you can change to but it is not required.
Children up to 14 years old and students get 20% discount Mon-Tue before 14.30 and after 20.30, Wed-Thu before 14.30 and whole Sunday.
Gift card is valid in six months.
PRIVATE CUSTOMERS
VR GAMES zone offers experiences that you cannot find any other place. We offer an unforgettable day with your friends and family! We arrange parties for birthday and bachelor & bachelorette. Our packages include cool VR games, access to lounge area with PlayStation4 and food/ drinks options.
PARTY PACKAGES
COMPANIES
VR GAMES zone is a fantastic choice for team building and corporate parties. Our games require cooperation and team spirit, and are fun for everyone regardless of age. We have spacious and comfortable facilities with lounge area, two meeting rooms and a small kitchen. We serve free coffee and sweets, and you can bring your own food and drinks / alcohol.
COMPANY PACKAGES
VR GAMES ZONE IN THE MEDIA